Folk Art Tours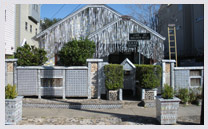 Folk art tours introduce our clients to public art that is frequently created by local amateur people. Encarta defines folk art as "paintings and decorative objects made in a naive style." I would add to this definition that folk art is done by common folk, available in generally free settings for the common folk, and or frequently reflects the lives, and dreams of common folk. It often expresses optimism for a better tomorrow or a joy of life. It may be a structure, architecture, or a work of art.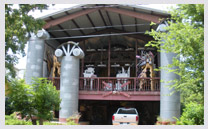 All our Folk Art tours are 5 hours in duration and run from 9 to 2.
---
Tour A — Downtown, 1st, 2nd, 3rd, 4th, and 6th Wards and the East End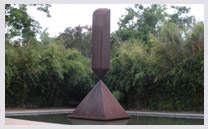 In this tour, we look at artwork in downtown, the 1st, 2nd, 3rd, 4th, and 6th Wards and the East End. This includes New Deal murals (1934 and 1935), Claus Oldenburg's Geometric Mouse, Scale X (1968), Changing Minds by Anthony (Tony) Cragg, (2002), the Hanging Oak Tree, St. Joseph's Church, the cactus water fountain, "Our United Community" (1985), Multicultural Education Through the Arts (MECA) community, the soda can statue of the Our Lady of Guadalupe and what appears to be Elvis, St. Stephen's Church, Thespian Park, Davy Crockett Elementary School's mural, David Adickes's Sculpturworx, Mark Bradford's art car studio, the Gargoyle House, home to Frank Zeni, the Lawn Mower House formerly of Rochelle Cooper, The Beer Can House, formerly of John Milkovisch from 1968 – 1987, the Orange Show, found by Jeff McKissack in 1979, Weapon of Mass Distribution art car (2005), Forest Park Cemetery with its Last Supper, face of Jesus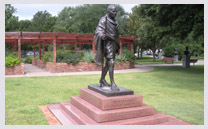 and Tiffany stained-glass windows, the Law Offices of Tim Hootman in railroad cars and the metal sculpture of a busty woman, the old Southern Pacific Steam Engine #982 by the Ballpark. Lunch at Treebeard's 12:00 – 1:30 PM. Look at the stained glass windows, including one Tiffany glass, in the chapel of Christchurch Episcopal Church (1893).
---
Tour B — Downtown, the 4th Ward, 2nd Ward, 3rd Ward, south Houston, southwest Houston, Bellaire, the Galleria area, Uptown Park, and West University Place.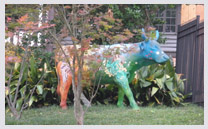 In this tour, we look at mostly public art work in downtown, the 4th Ward, 2nd Ward, 3rd Ward, south Houston, southwest Houston, Bellaire, the Galleria area, Uptown Park, and West University Place. This will include Sam Houston Park, a statue of John Connally, and a memorial to Confederate soldiers, the Sweeney Clock by the Bayou Place at the Albert Thomas Convention Center, the Hanging Oak, the Hard Rock Cafe Guitar, Melvin Chow's 70-foot tall "Seven Wonders" (1998) at the Wortham Center (1987), the George Bush #41 Monument in Sesquicentennial Park, Buffalo Bayou Bubble, David Adickes's "Virtuoso" (1982) at the Lyric Center, Joan Miro's "Personage and Birds" (1970), Texas Star on a rooftop, JP Morgan Chase public park, waterfall, and mural, Samurai Warrior, The Last Concert Café and a boat, a wall mural, Mother Dog Studio, a headless man/monster and 5 rock and brick collections in metal vases/containers, Houston Studios, Museum of Cultural Art of Houston (MOCAH), Allen's Landing, Minutemaid Ballpark and the Orange Train, Spider web, Lady Luck Club, art colony, Discovery Green Park with its drivers' license gazebo, ice skating rink, communication cylinders, showers, Root Memorial Square Park, Texas Guandi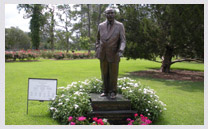 Temple (2001), Blue Triangle Community Center (1951), Project Row Houses (1939, 1994), Dupree Sculpture Park, Flower Man's Home, Emancipation Park (1872), Vision Park of Bert Long, Baldwin Park, Destiny's Child mural on the House of Dereon, Community Artists' Collective, Midtown Art Center mural, Station Museum of Contemporary Art, Pig House, Hanging Ring, Buffalo Soldiers National Museum, House with an observation deck, Texas Pipe & Supply Company Inc.'s metal sculptures, Houses along Stella Link, Bellaire plantation style home with a dragon, Bellaire streetcar, Galleria area, Waterwall (1985) and the Williams Tower, Uptown Park with its elephant, alligator, gorilla, fountains, and lions, a giraffe, and West University Place's unique symbols. Lunch at the Cleburne Cafeteria.
---
Tour C — Downtown, the 4th Ward, 2nd Ward, 3rd Ward, south Houston, southwest Houston, Bellaire, the Galleria area, Uptown Park, and West University Place.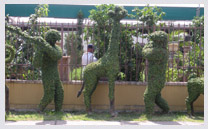 This tour is in a variety of neighborhoods that tend to be affluent and within the I-610 Loop. It includes the Montrose area, Bell Park and the statue of Christopher Columbus, the Hyde Park area – Museum of Printing History, Westmoreland District – home of LBJ, and 3 mansions on Westmoreland Street, Audubon Place, University of Saint Thomas area – miscellaneous Menil Museum and park area – metal works, Rothko Chapel's Broken Obelisk, River Oaks, River Oaks Topiaries and the River Oaks Plant House, Upper Kirby District – longhorn armadillo, West University Place – park with an ark and playhouse, downtown, and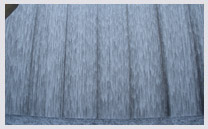 house on Weslayan with a sculpture, Buffalo Speedway area – black museum like home, and the White House, Rice Village – artwork at Sunset Boulevard and the wart hog and fountains by Two Rows on University Blvd, Romanesque columns, Mecom Fountains, Hugh and Lillie Cullen Sculpture Garden, Hermann Park busts – Gandhi and Spanish conquistadors and Hispanic leaders, 1936 log cabin. Lunch at Luby's or Cafe Express.
---